Leukemia, Bone Marrow Failure Syndrome, Lymphoma, Multiple Myeloma, Neuroblastoma, Sarcoma, Severe Immune Deficiency and other life-threatening diseases strike thousands of people throughout the Jewish world every year.
Yet these and almost 70 other diseases can now be completely cured by a simple Stem Cell (also called a Bone Marrow) Transplantation.


However only around one quarter (25%) of patients find a genetically fully-matched donor within their immediate family.
Only another 12% find a fully-matched donor from the world registers of potential donors.
This still leaves the vast majority (63%) who die for lack of a suitable donor – hundreds of lives that could be saved by a simple Cord Blood transplant!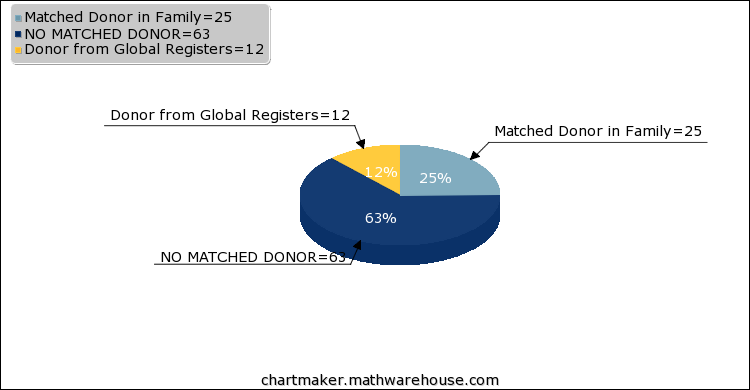 The Simple Solution – Cord Blood Traqnsplants
Cord Blood is the blood that remains in the umbilical cord and placenta after the birth of every child. In the past, these were considered useless and were simply discarded.
Recent medical research discovered that Cord Blood is extremely rich in Stem Cells, the curative ingredient carried in a bone marrow transplant. Since then Cord Blood has increasingly been used to save lives through simple Stem Cell Transplantations.
Cord Blood Stem Cell transplants have received full support from all major Rabbis – they are not the controversial embryonic stem cells harvested from embryos. Click here to read rabbis' recommendations.

Simple Collection - Easy Storage – Always Available
Cord Blood units are simple to collect, easy to store, and are then always and immediately available. As a result, Cord Blood units greatly increase the chances of survival for patients in need of a life saving stem cell transplant for a multitude of diseases.
In addition, possibly most important, Cord Blood transplants require only 66% genetic matching (4:6 HLA) which means a potentially much higher rate of finding suitable units for transplant than from potential bone marrow donors.

To ensure all patients can access life-saving Cord Blood transplants,
Israel needs at least 35,000 Units in its public Cord Blood banks.

Can We Get There?
With around 180,000 births in Israel annually, it could take as little as just a couple of years to fill our public Cord Blood Banks.
There are currently around 8,000 units stored in Israel's public Cord Blood Banks. We need at least 27,000 more.
Collecting, processing & preserving each Cord Blood unit in the public banks costs around $1,400 – so another $38m is needed.
Despite all its other pressing obligations, the Israeli Government has committed almost $1 million a year to this project.


AT THIS RATE IT WILL TAKE ANOTHER 38 YEARS TO FILL THE BANKS!
YOU CAN HELP REDUCE THAT TIME & INCREASE THE NUMBER OF LIVES WE SAVE!
PLEASE DONATE NOW AS GENEROUSLY AS YOU CAN